Why have our real estate prices spiked? A simple explanation here in the Fairfield CT Market Report - October 2020
Posted by Judy Mitchell on Wednesday, November 11, 2020 at 9:00 AM
By Judy Mitchell / November 11, 2020
Comment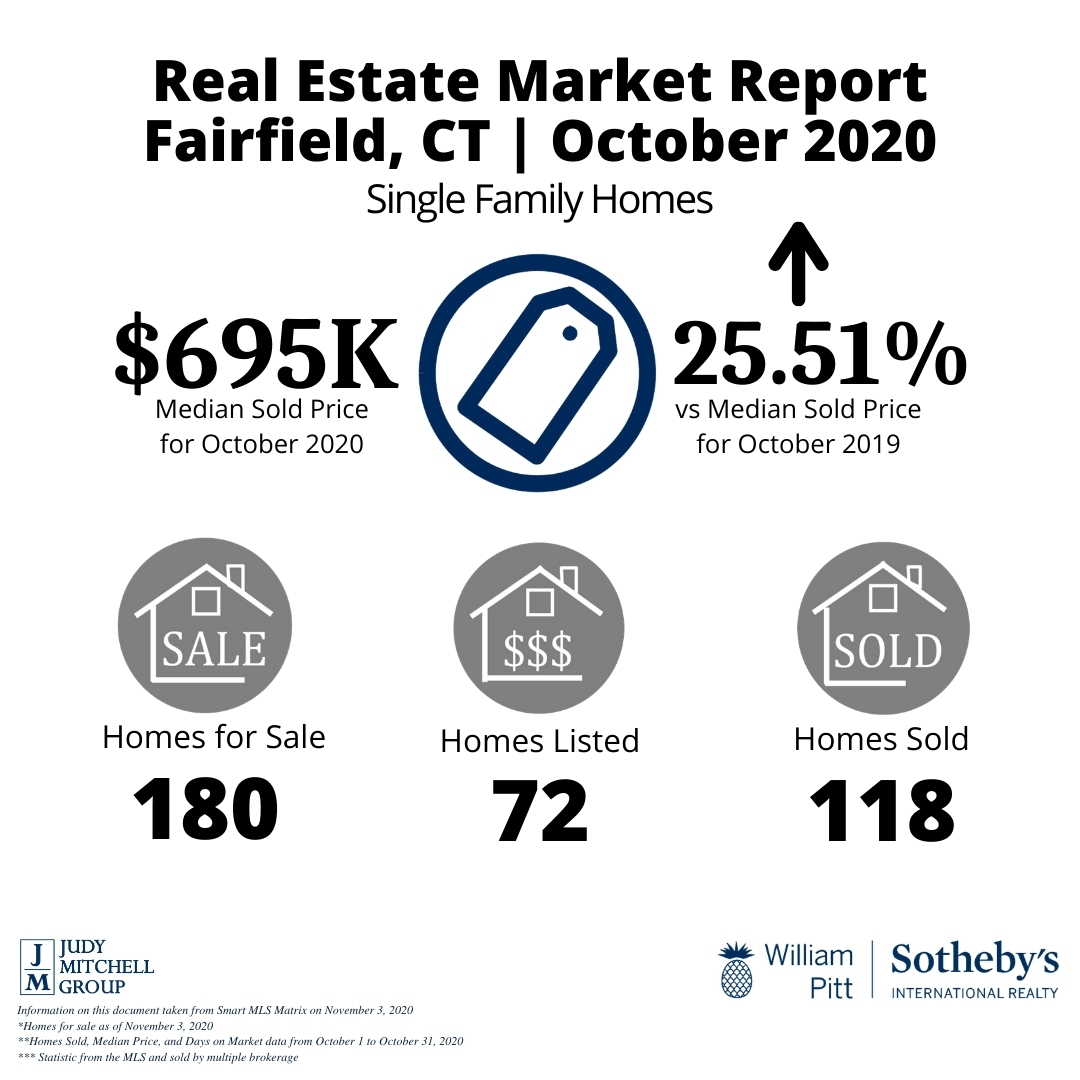 How is it possible? The median price of a single-family home is up over 25% year to year? Wow! There are several factors contributing to this phenomenon.
1. Buyer Demand. Home has never been more important. The pandemic has taught us that. When forced to spend long periods of time at home, we had no choice but to re-evaluate our living environments. Many buyers in the marketplace now have made firm decisions to improve their living spaces. Upsizing and downsizing. Quality of life in your home matters.
2. Exodus from Urban Centers. If you no longer have to live close to work, where would you live? This is the questions many people have asked themselves. The answer for many people is outside their current city. Our buyers tell us they are looking for space, privacy, and a yard.
3. Lack of Quality Housing Inventory. The buyer demand kind of 'snuck-up' on us! We did not anticipate a pandemic and its impact on our real estate market. Sellers were not as ready as buyers. While buyers immediately jumped into the market, sellers were slower to respond. Most sellers want to have their house in perfect condition before they sell in order to maximize their sale price. They could not respond to the demand that quickly. With the lack of great homes on the market, those that were for sale received multiple offers as demand skyrocketed.
4. Ridiculously low-interest rates. I mean that in a positive way! If you can finance your dream home for 30 years at 2.75% - you've locked in essentially free money. Because of this, young buyers are stretching to buy their "forever homes" vs starter homes. Seasoned buyers are using their equity in their existing home to buy their dream home, a vacation property, or the house they have always wanted. And, downsizers, well, they're going South, West, or just staying local. They now have ready cash to help their kids buy homes, or invest in their future, buying vacation homes, or planning for that vacation that will happen someday.
Did you miss your chance? I am happy to say, NO! There are many buyers in the marketplace now looking for homes to purchase. Ask us for our list of buyer needs. You'll be surprised! We anticipate the spring selling season to start January 1st! Smart sellers are talking with their agents now to make sure they are in a good position to be ahead of the wave of inventory anticipated to hit our market in 2nd quarter. With more houses on the market, the prices will decline slightly. Talk to your agent about planning a strategy to sell your home.