You Are Invited! Free Hot Cocoa from the Judy Mitchell Group
Posted by Judy Mitchell on Monday, December 2, 2019 at 12:44 PM
By Judy Mitchell / December 2, 2019
Comment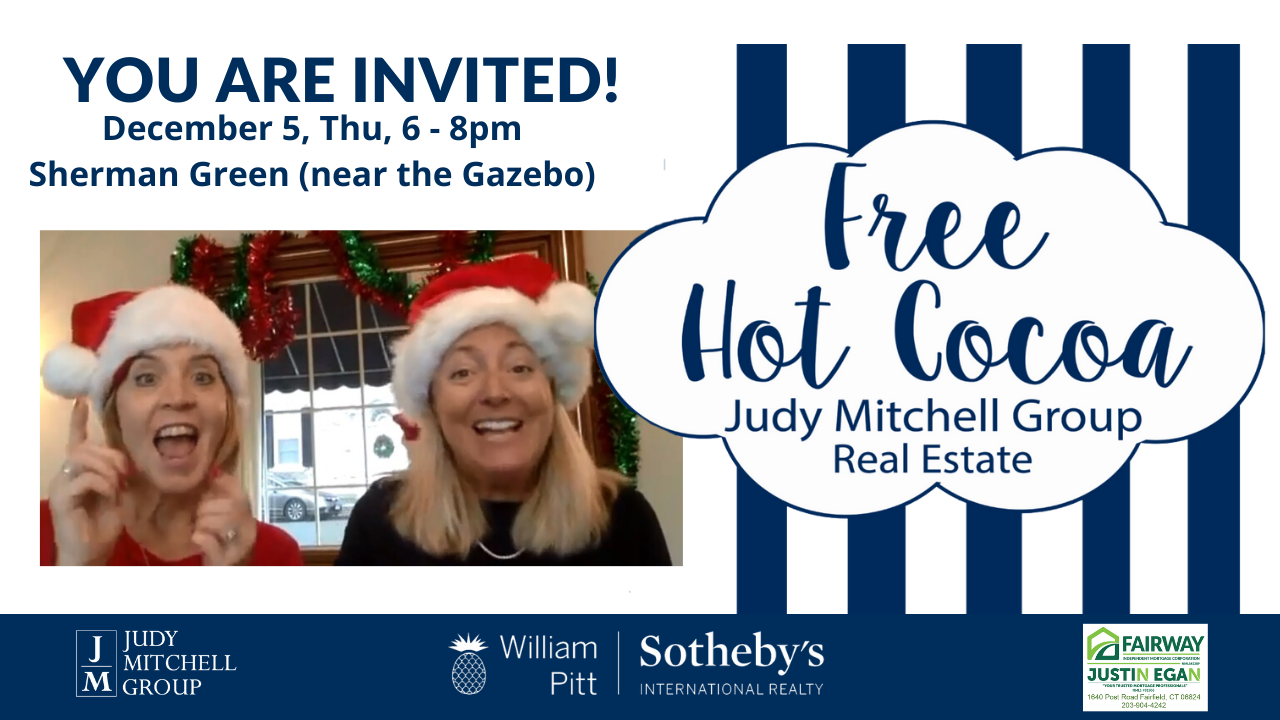 William Pitt Sotheby's International Realty Fairfield Realtor to Co-Sponsor Festive Evening
Fairfield, Conn., November 12, 2019 - William Pitt Sotheby's International Realty announced today that the Judy Mitchell Group of the firm's Fairfield – Southport office will co-sponsor the 6th annual "Fairfield Holiday Shop and Stroll," on December 5th from 6:00 – 9:00PM. This is the 3rd consecutive year the Fairfield Realtor is participating as a co-sponsor. The Mitchell Group is made up of Fairfield-Southport Realtors Judy Mitchell, Lisa Damp and Bethany Buck.
The festive evening offers residents of Fairfield and surrounding towns the opportunity to stroll, shop and taste an assortment of hors d'oevres and seasonal refreshments at participating shops in the downtown, while enjoying carolers and musicians from local schools. There will also be an ice sculpting demonstration on Sherman Green.
Visitors to the Judy Mitchell Group's hot cocoa stand can enjoy free cups of hot cocoa with whipped cream and sprinkles and cookies. The group's partner this year, Fairway Mortgage local lender, Justin Egan, is providing the cookies.
In addition to offering refreshments, the Mitchell Group will hold a free drawing for a $250 visa gift card. The sweepstakes is open to all participants over the age of 18. To enter, participants can take a photo with Judy or Lisa at their hot cocoa stand on the Sherman Green and post the photo on Facebook, tagging the Mitchell Group. Those who enter must also "like" the group's Facebook page for a chance to win.
"The goal of our participating in this event is to say thank you to our community for the support of our real estate business, and to keep shoppers warm while they enjoy the night's festivities," says Mitchell. "As active members of the Chamber of Commerce, we support the economic growth of our town of Fairfield and believe strongly in supporting our local businesses."
Participating shops include Apricot Lane Boutique, Beehive, Ciao Bella, Vintage Garden and more. Additional co-sponsors include the Town of Fairfield and the Fairfield Chamber of Commerce.
To learn more about the event, visit fairfieldct.org
To learn more about the Judy Mitchell Group, visit judymitchellgroup.com
About William Pitt-Julia B. Fee Sotheby's International Realty
Founded in 1949, William Pitt-Julia B. Fee Sotheby's International Realty manages a $4.2-billion portfolio with more than 1,000 sales associates in 27 brokerages spanning Connecticut, Massachusetts, and Westchester County, New York. William Pitt-Julia B. Fee Sotheby's International Realty is one of the largest Sotheby's International Realty(R) affiliates globally and the 34th-largest real estate company by sales volume in the United States. For more information, visit the website at williampitt.com.
Sotheby's International Realty's worldwide network includes 990 offices throughout 72 countries and territories on six continents.
William Pitt Sotheby's International Realty Contact:
Linda D'Amato
Brokerage Manager
(203) 913-1010